after too long of a hiatus i'm back and in my own studio.  actually i've been working for awhile (my kiln is not due to arrive till late february) but i've found that i'm just not a constant updater or poster on things, esp. when those things are ideas and its those ideas you'd rather spend your time on trying to bring to fruition, not a constant look at me update.  (not to mention being inundated with pots in varying stages of getting done is like watching paint dry)
But i realize i am a blog update or two behind, so bare with me as i throw as much as possible into one post.
Act 1:Finding the studio.
This was the easy part and hard part all wrapped into one. The easy part being we had made the decision to sell and find something that better suited our needs, our criteria were either to find property and build a studio or luck into something with a pre existing out building in good shape.  The hard part of course was procuring: there were houses that we liked but were out bid on, ones that would work but just weren't right and shit you could not unsee (bandages used like tape along the perimeter of a shower wall was by far my favorite) .Eventually we weren't outbid and the choice has proved so far to be a good one.
Act 2: Electricity and something to tie the room together.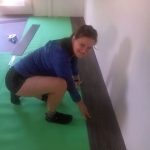 The hurdles to getting the studio were minimal; it needed electricity and flooring. Installing the floor came easy enough with the requirements being a free weekend without rain and alot of advil after.  Lessons in futility I got to move all the stuff we had dumped in there while we unpacked and decided what stayed what went.   Next up scheduled an electrician, whose first visit ended up only being only to install a very expensive plug for the kiln (had i been able to have the requested day off as planned,i might of been able to get everything done that first go round, but things never happen as planned so i chalked it up to adulting) second visit on the tale end of 2016, Austin we have power!
Act 3: Equipment.
Since I had been working for universities the need to own your own wheel or kiln(s) was pretty low, so i ordered both. However things being things i.e. storms in the northwest skutt was backlogged and the kiln won't be in until late February.  But, where there is a will there is a way! I drove up to Ft Worth to pick up my wheel and I was in business. The work table and shelves were just a matter of firing up the saw and getting in touch with my inner jesus christ supercarpenter.
Muscle memory still intact, i decided to start with mugs.
i can't explain how great it was to be working again and after a couple of weeks of throwing pots (fodder for tests so i can work out my new glaze palette) I started back in on actual work.  I hate showing work in progress, but here happen to be the third set i started, shown in progress and with their accompanying sketch.  The title being ever so apropos: it took me a while to get me in and i'm gonna take my time