its been a long, busy year.  there was lots of work that got done, lots of work still to complete, trips that were taken, one tiki sale, several commissions and pretty much all of fall has been unseasonably wet marred with way too many overcast and dreary days for my taste.  instead of sitting on a semi small throne of all the things i did not get to, i'm taking advantage of my time off to continue to move forward and get things crossed off that list.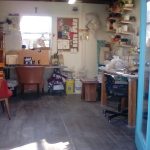 our Christmas trip up  north allowed us to unload some of the furniture to the nieces and nephews i'd been keeping for no real reason other than i might have a furniture problem.  with our load lightened it opened up real estate in the studio which allowed me to streamline a little more of our "storage stuff" and studio items that don't used all the time, but need to be handy.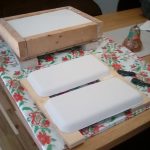 i finally had enough sunshine to get my plaster slabbed poured, its curing inside.  i also completed a couple of medium sized platter proofs.  i've been wanting to do this for a while, but the weather and my free time never really were on the same page.
membership has its privileges and taking advantage of mine.  before the holiday i checked out a light kit and lens from work, along with my new tripod and backdrop, i'll be properly shooting work again and more importantly taking away any excuses i might of had for not getting it done.
I had not entered any shows, since getting the studio up and running. its not that i was avoiding them just for a variety of reasons not really seeking them out, but this past month i saw one that grabbed my eye and decided to put the old hat back in the ring.  i am honored to say that this work will be part of the small & MIGHTY exhibition at the Clay Studio in Missoula, Montana next year.